A Life in Pictures: Remembering George H.W. Bush
---
George H.W. Bush, the airman, congressman, UN ambassador, China envoy, vice president, CIA director, president, and father of another president, died at his home in Houston Friday. He was 94.
The jobs intersected with some of the biggest moments in American life. Bush began his service as a Navy pilot in World War II, piloting a plane that got shot down only to be rescued at sea by a submarine. As president, Bush presided over the end the Soviet Union and fall of the Berlin Wall.
Tributes poured in noting that life of accomplishment, with President Donald Trump saying Bush "always found a way to set the bar higher". Here's a look at his life.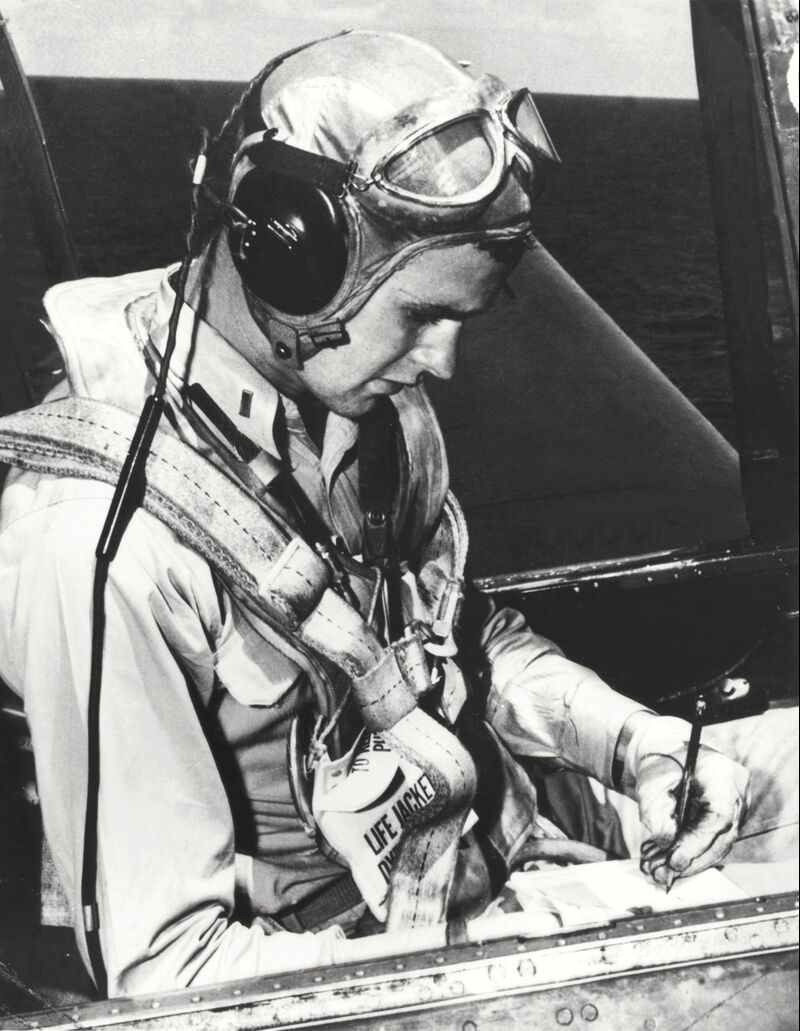 George Herbert Walker Bush is pictured in the cockpit of his TBM Avenger during World War II. Bush was a Navy pilot serving in the Pacific theater. In a 1944 bombing run on Chichijima, an island about 500 miles east of the Japanese mainland, Bush's plane came under heavy fire and he was forced to bail out. After hours bobbing on a life raft in the Pacific, he was rescued by the crew of the USS Finback submarine.
Source: AFP via Getty Images
George Bush was born June 12, 1924, in Milton, Massachussetts. After the war, Bush attended Yale, graduating in 1948 with a degree in economics. Here, Bush stands in front of a "Yale Fence" in his baseball uniform at Yale University, circa 1945-48.
Source: George Bush Presidential Library/MCT via Getty Images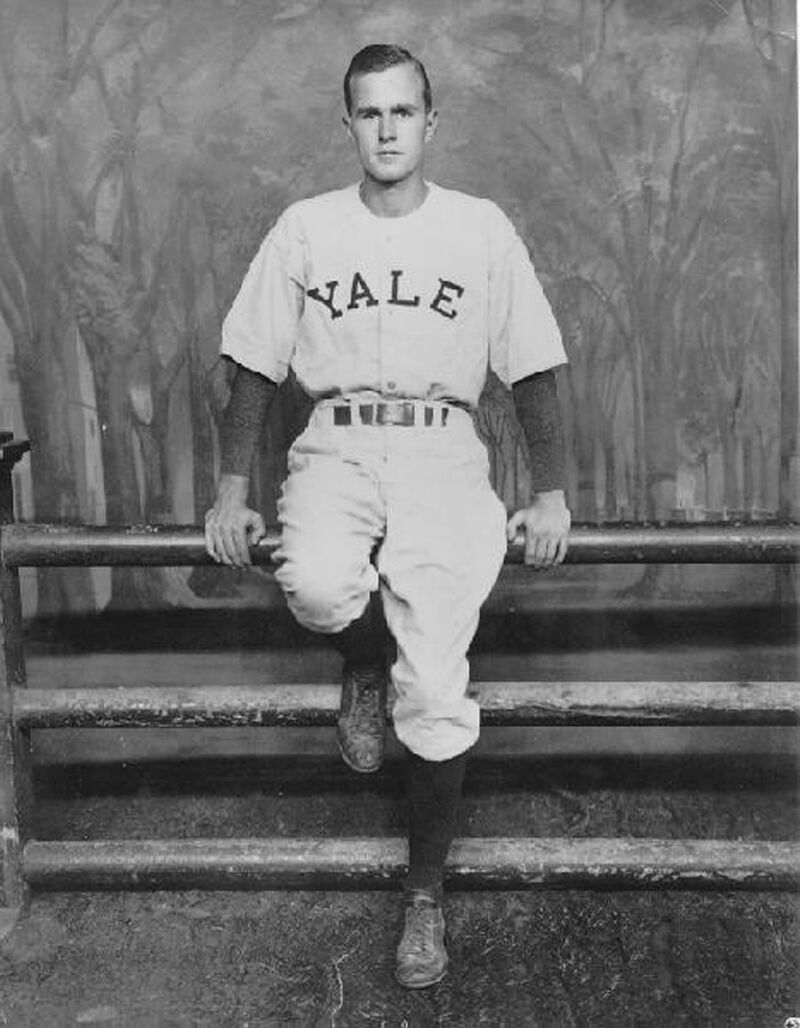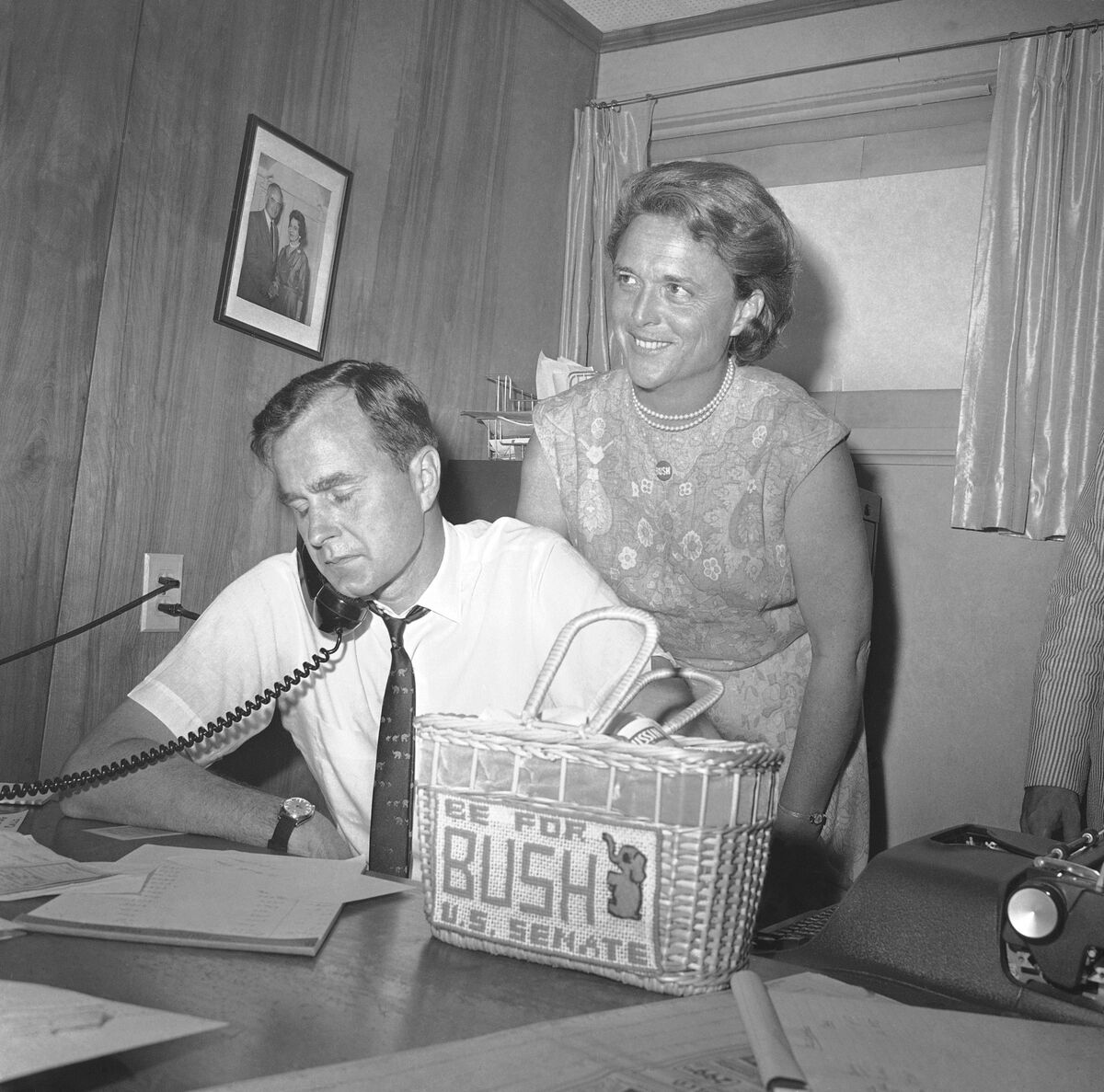 After Yale, George Bush moved to Texas, where he made his fortune drilling oil, before entering politics. He ran unsuccessfully for the Senate before winning two terms in the House. Here, as a candidate for the Republican nomination for the U.S. Senate, Bush gets returns by phone at his headquarters in Houston, Saturday, June 6, 1964 as his wife Barbara, beams her pleasure at the news. Bush won the primary but would lose that general election to Democrat Ralph Yarboroug.
Photographer: Ed Kolenovsky/AP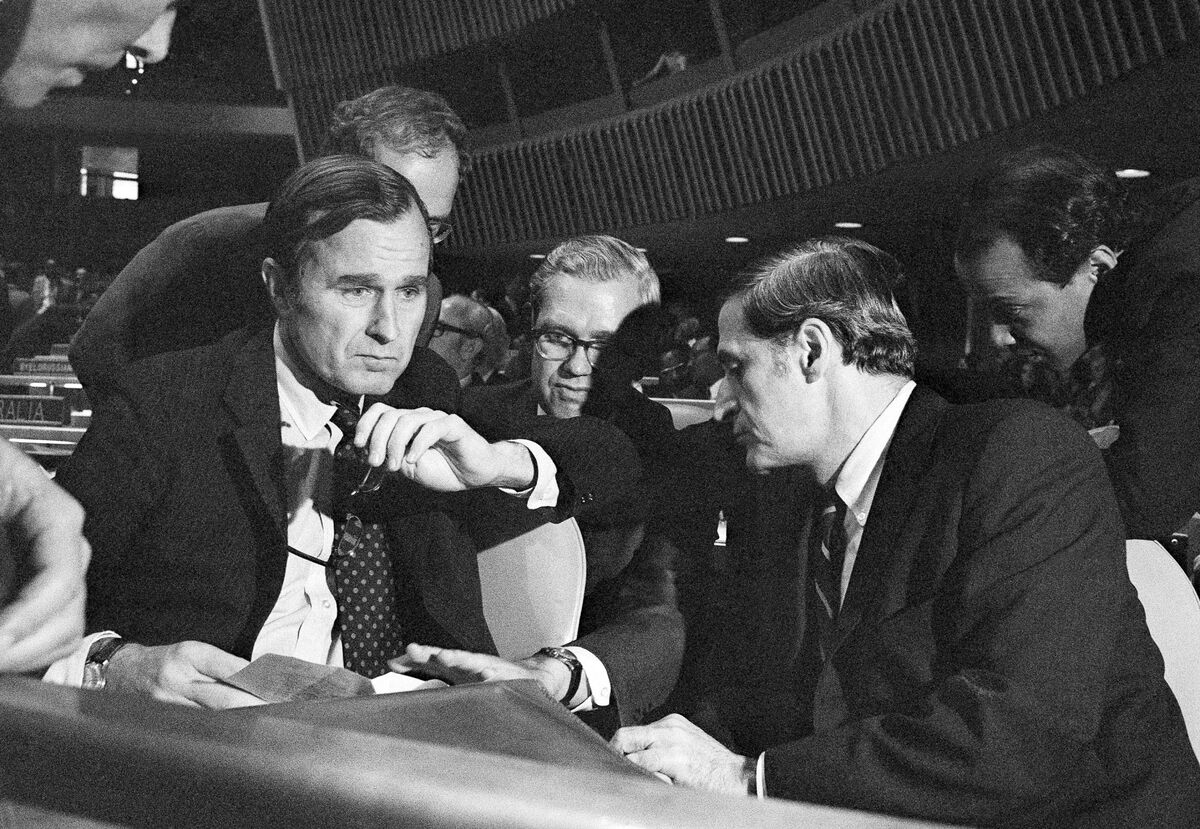 Bush would have one more try for the Senate, against Democrat Lloyd Bentsen in 1970, but he fell short again there too. President Richard Nixon appointed Bush ambassador to the UN. Unlike in the more vicious confirmation fights of today, Bush was confirmed unanimously by the Senate. Ambassador George Bush, left, permanent representative of the U.S. to the United Nations, confers with aides October 26, 1971 as the U.N. Assembly voted to admit the people's Republic of China. The aides are, from left, legal adviser Herbert Reis, partially hidden, political counselor Michael Newlin, and Samuel DePalma, assistant secretary of state for international organization affairs.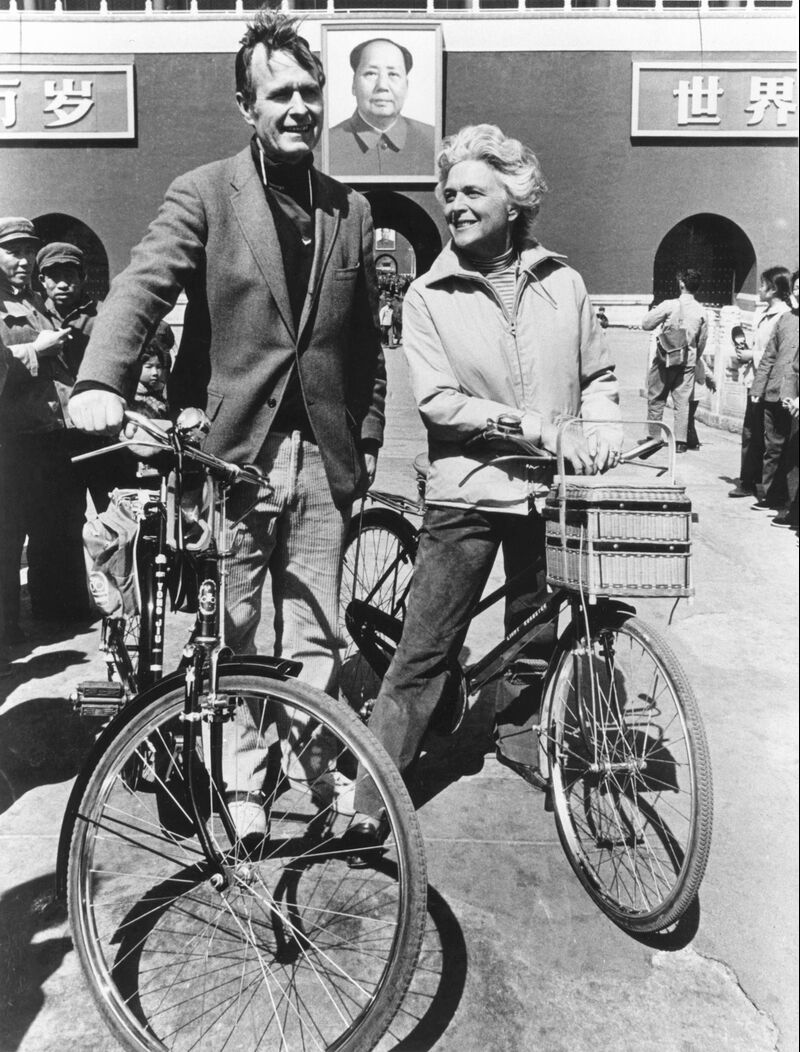 After a brief stint leading the Republican National Committee, where he would ask Nixon to resign amid the Watergate scandal, new President Gerald Ford named Bush envoy to China. Here, George H.W. Bush poses with his wife Barbara in Beijing in 1974.
Source: AFP via Getty Images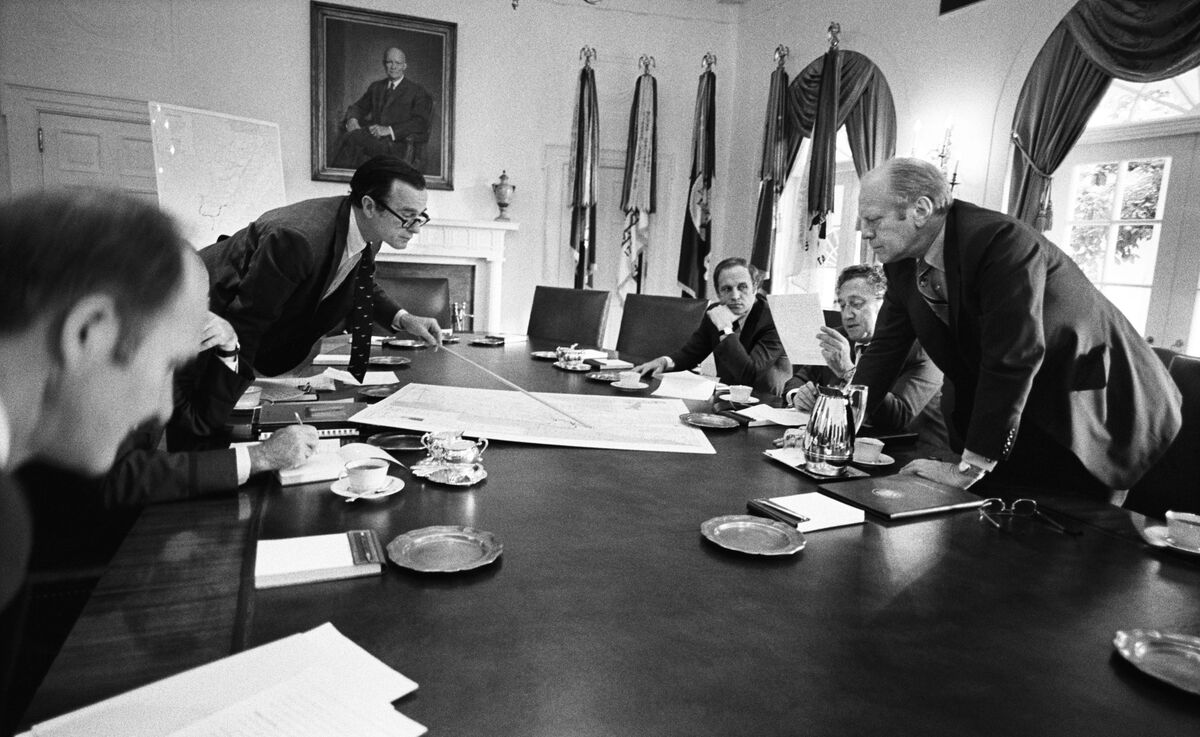 CIA Director George H.W. Bush in a Cabinet Room with President Gerald Ford during the Lebanon crisis. Bush came back to the U.S. at Ford's insistence to lead the Central Intelligence Agency.
Photographer: David Hume Kennerly/Archive Photos via Getty Images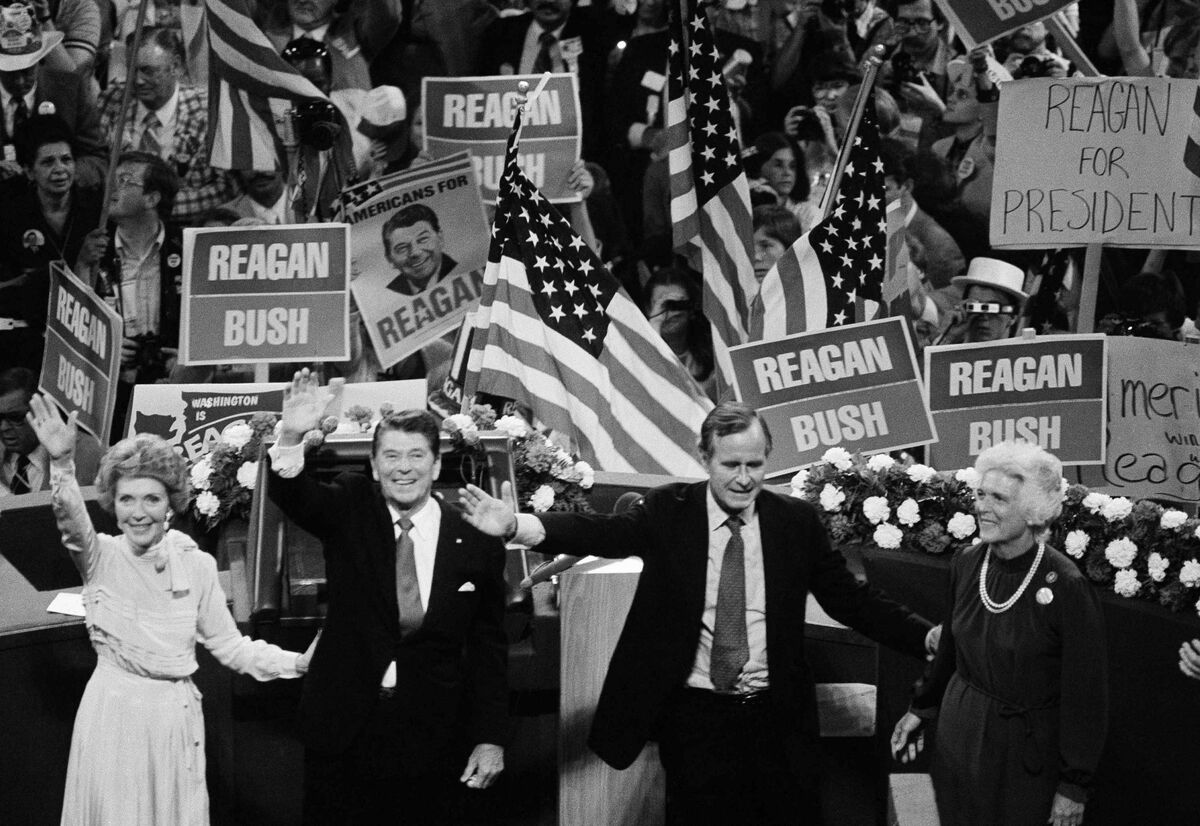 Bush ran for president three times, the first of which was in 1980. He won the Iowa caucuses, but would lose New Hampshire and the nomination to Ronald Reagan. Reagan picked Bush to be his vice president, and the two routed Carter in the election that November. Pictured are Republican presidential candidate Ronald Reagan and his running mate George Bus, shown on the podium of Joe Louis Arena in Detroit, July 17, 1980 as the final curtain draws near on the 1980 Republican National Convention. Nancy Reagan stands left, Barbara Bush, right.

With Reagan term-limited out of office, Bush ran and won the Republican nomination for president. He defeated Massachusetts Governor Michael Dukakis to win his first and only term as president. Pictured above left, George Bush taking the oath of office on Jan. 20, 1989, and right, with his wife Barbara Bush walking hand-in-hand, waving, during his inaugural parade, with secret servicemen in tow.
Photographers: Wally McNamee/CORBIS/Corbis via Getty Images, left; Dirck Halstead/The LIFE Images Collection via Getty Images, right.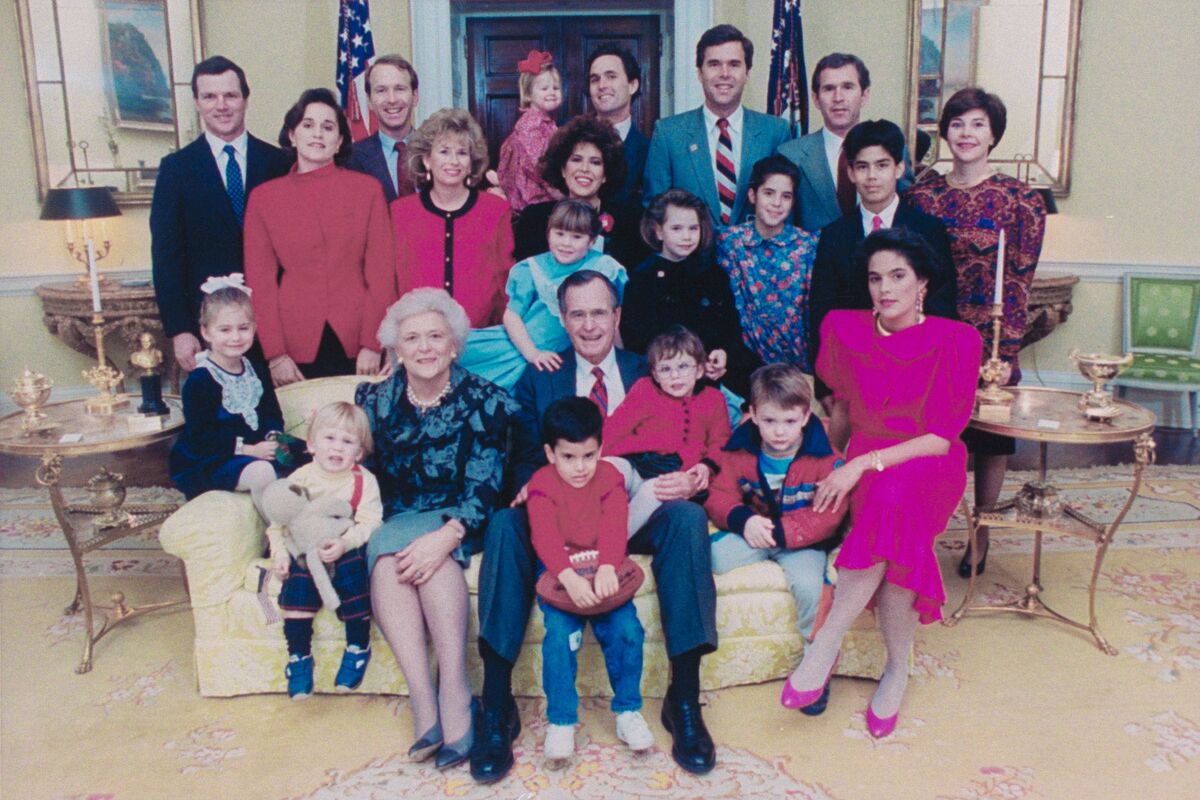 President George H.W. Bush poses with his family in a 1989 photo. Among those pictured are Jeb Bush, who would go on to be governor of Florida, and George W Bush, who would go on to be governor of Texas and then president.
Photographer: David Valdez/The LIFE Picture Collection via Getty Images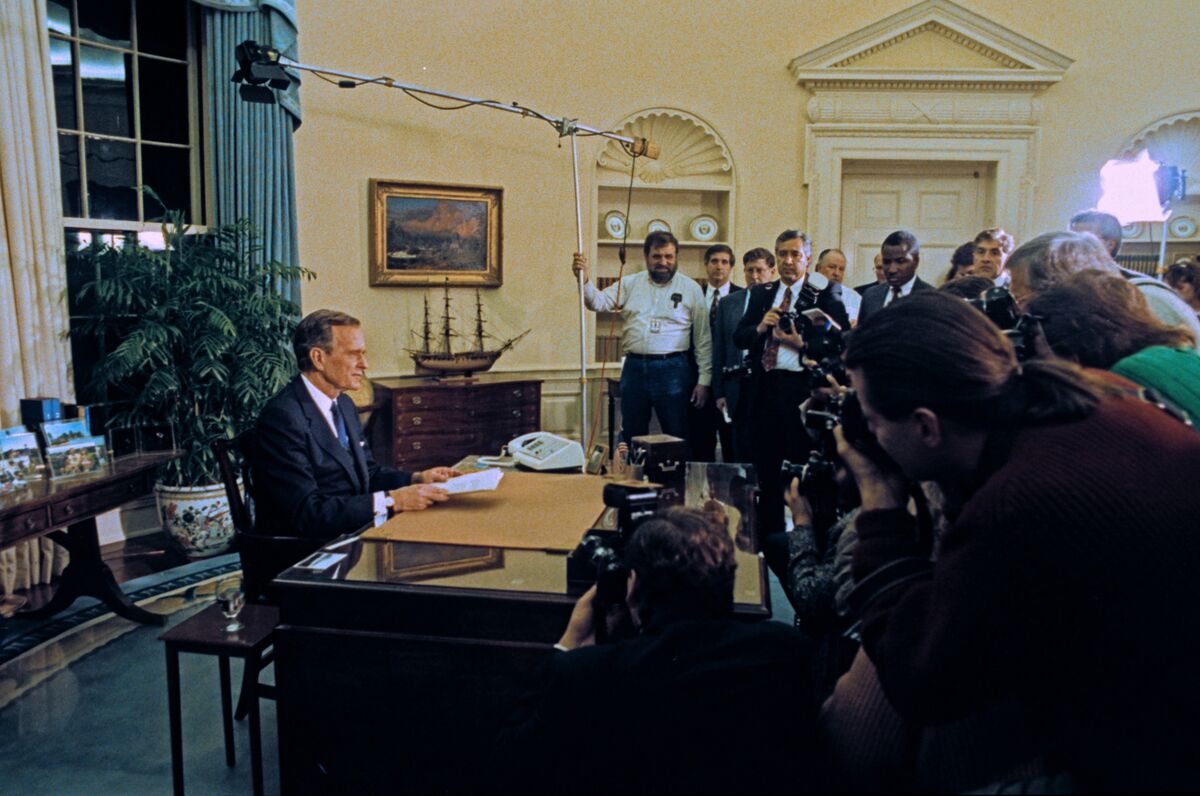 US President George H.W. Bush sits behind his desk in the White House's Oval Office, Jan. 16, 1991. He had just announced the start of an air offensive to liberate Kuwait, after it was overrun by Iraq.
Photographer: Consolidated News Pictures/Archive Photos via Getty Images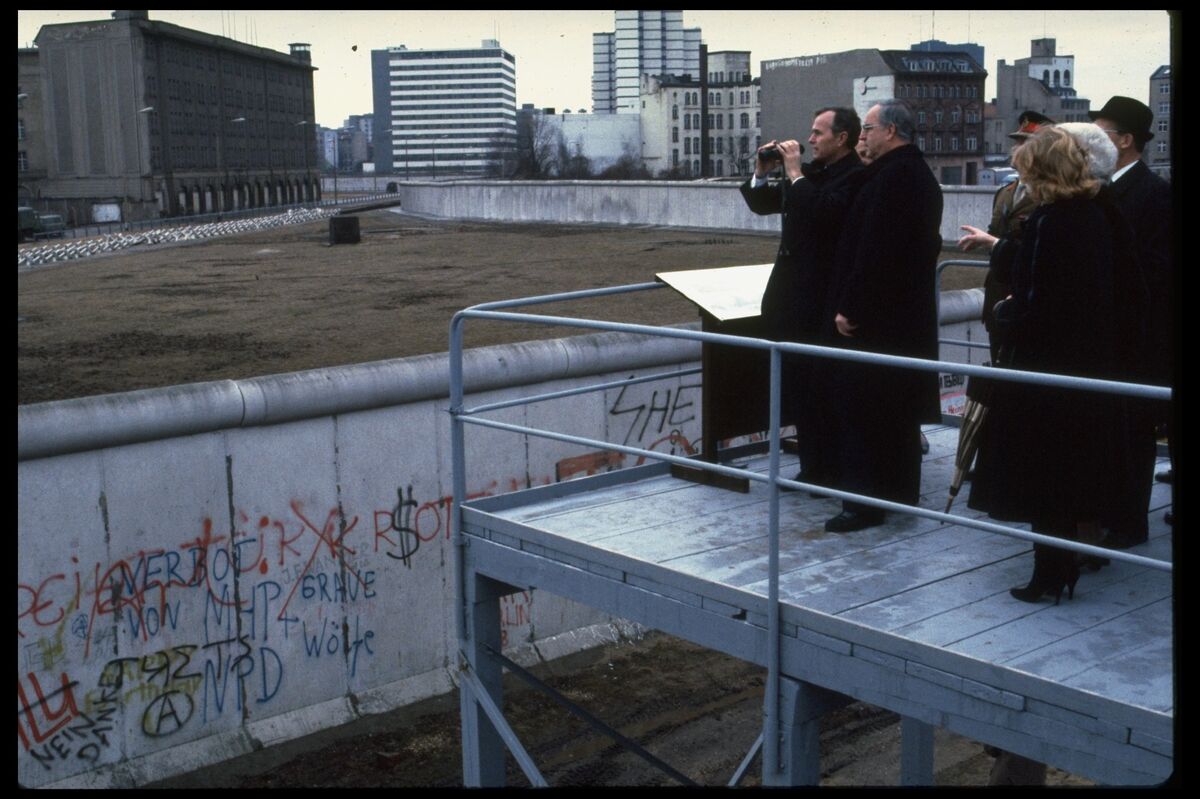 US Vice President George Bush holding up binoculars while standing with West German Chancellor Helmut Kohl to view East Berlin over the Berlin Wall in 1983.
Photographer: Sahm Doherty/The LIFE Images Collection via Getty Images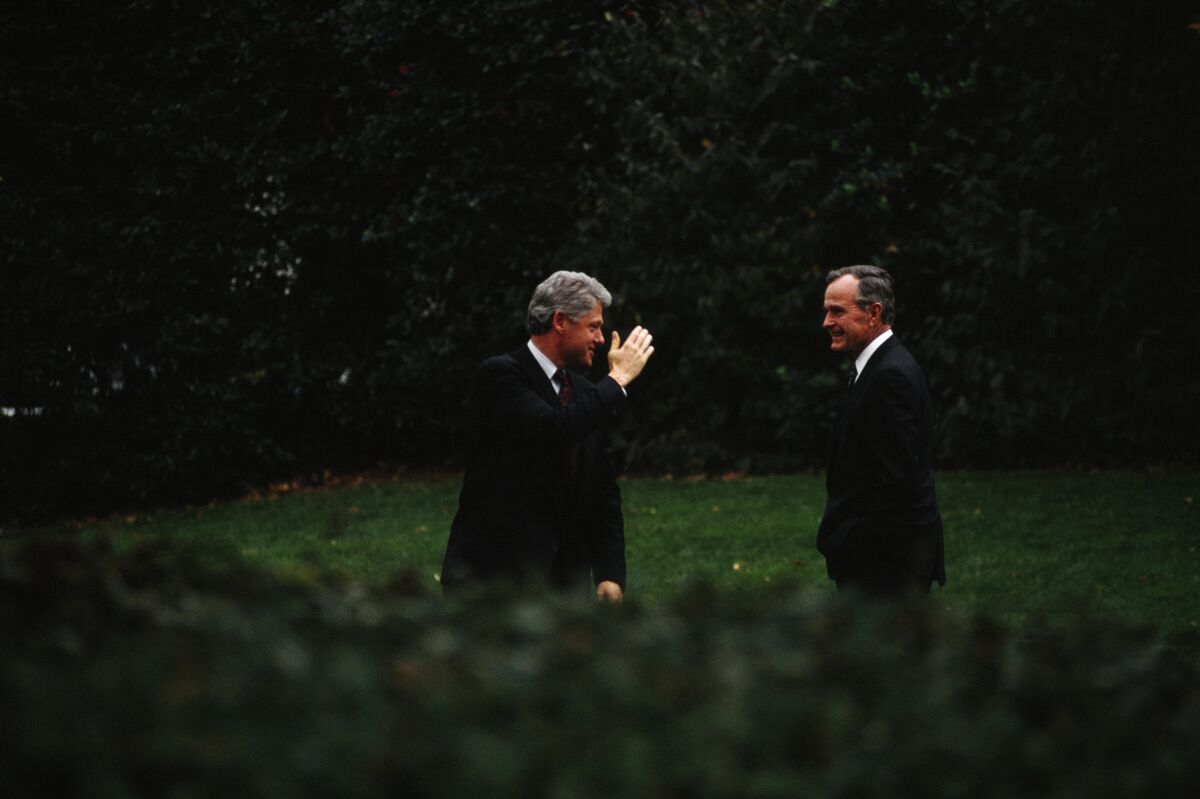 Bush loses reelection bid in a three-way race to Bill Clinton, the then-governor of Arkansas. Here, the newly elected Clinton is welcomed to the White House by his predecessor Bush.
Photographer: Ira Wyman/Sygma via Getty Images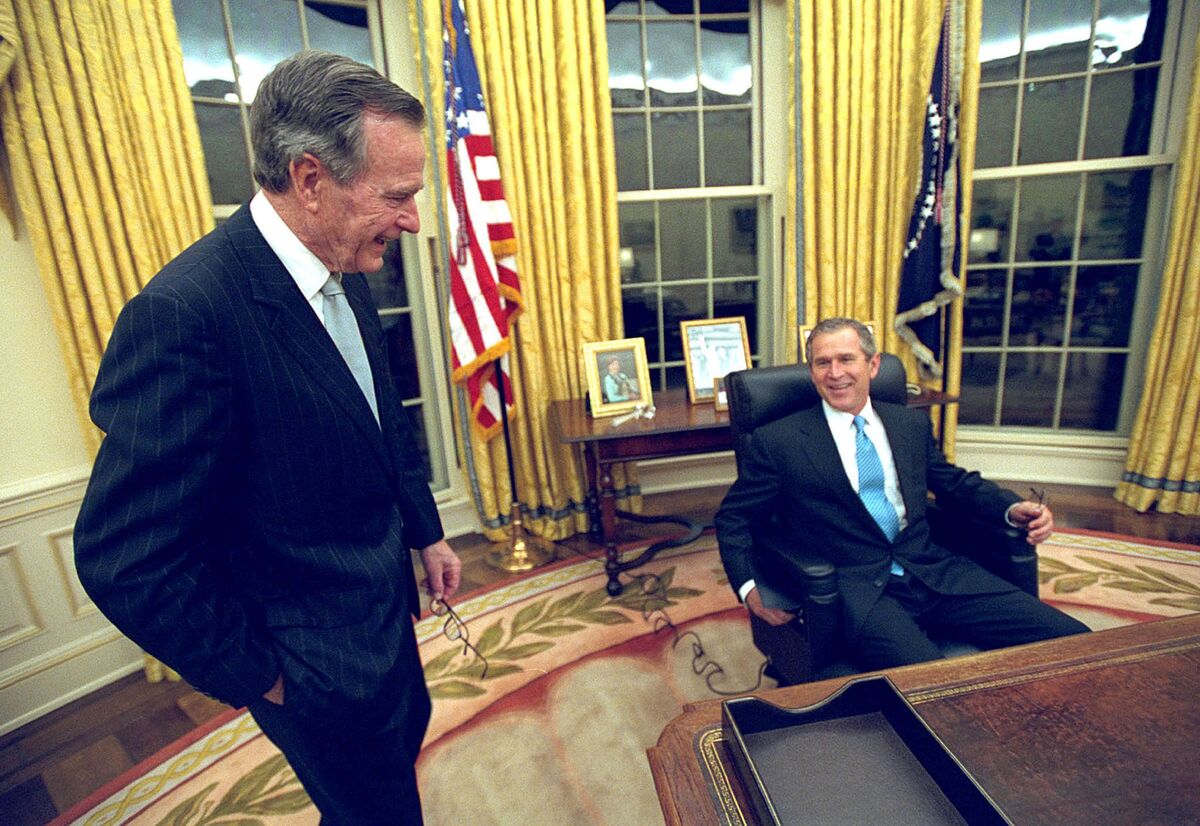 Bush's legacy isn't just his own, he was the patriarch of a political dynasty. Son George W. Bush would be elected president in 2000, while another son, Jeb, was a popular governor of Florida. Here, President George W. Bush sits at his desk January 20, 2001 in the Oval Office for the first time on Inaugural Day.
Photographer: The White House/Hulton Archive via Getty Images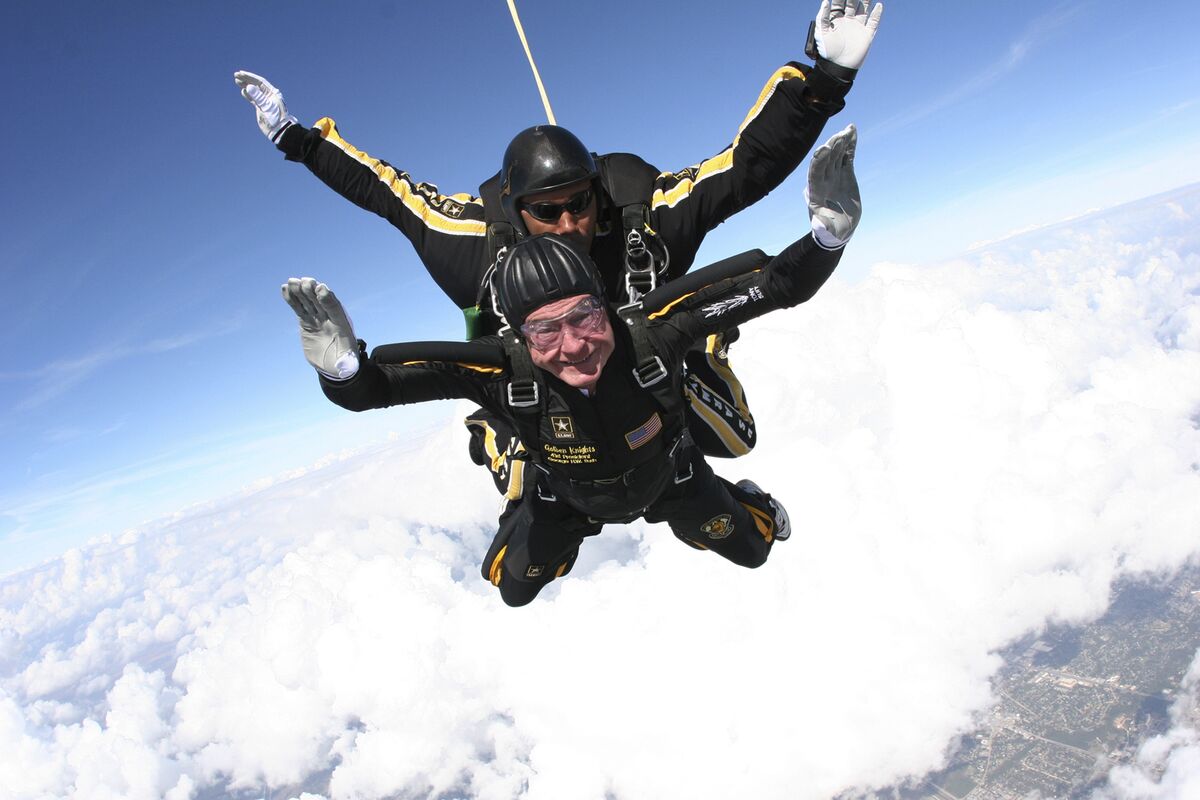 Former President George H.W. Bush free falls with Golden Knights parachute team member Sgt. 1st Class Mike Elliott, as he makes a dramatic entrance to his presidential museum during a rededication ceremony in College Station, Texas, on Nov. 10, 2017.
Photographer: Sgt. 1st Class Kevin McDaniel/U.S. Army via AP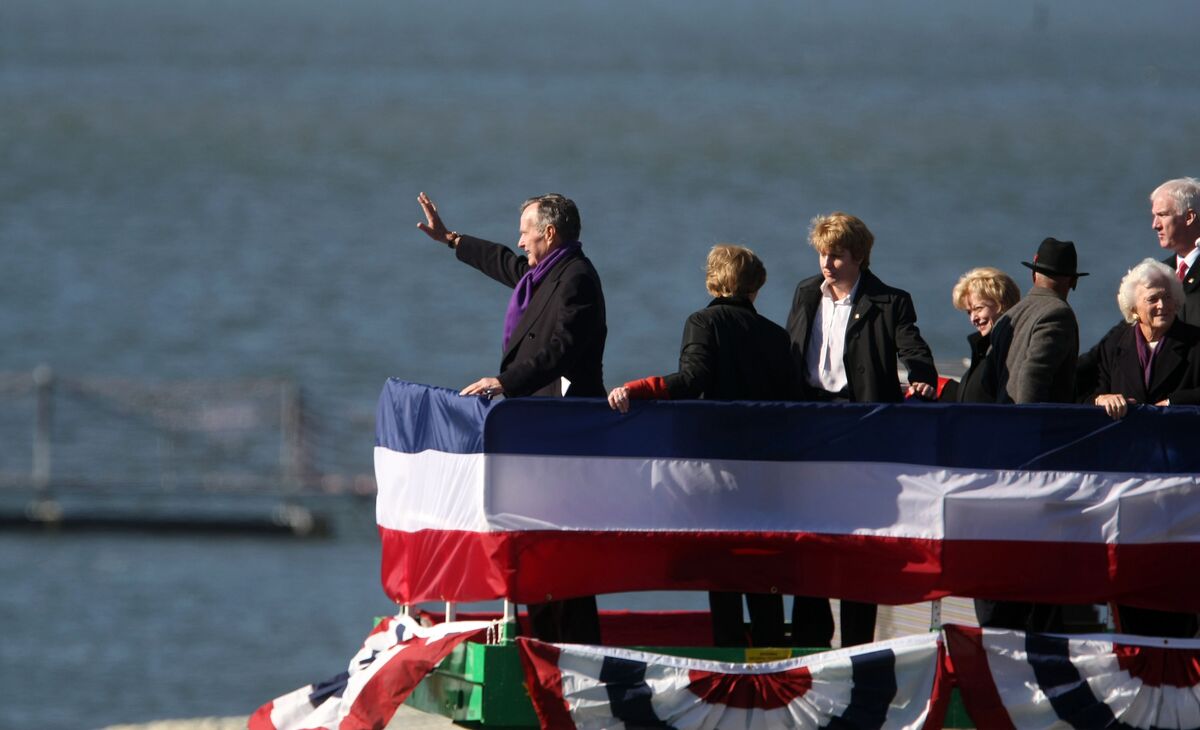 Former president George H.W. Bush waves aboard the Navy's newest aircraft carrier the George H.W. Bush (CVN 77), named after him, after its commissioning ceremony.
Photographer: Jason Hirschfeld/Getty Images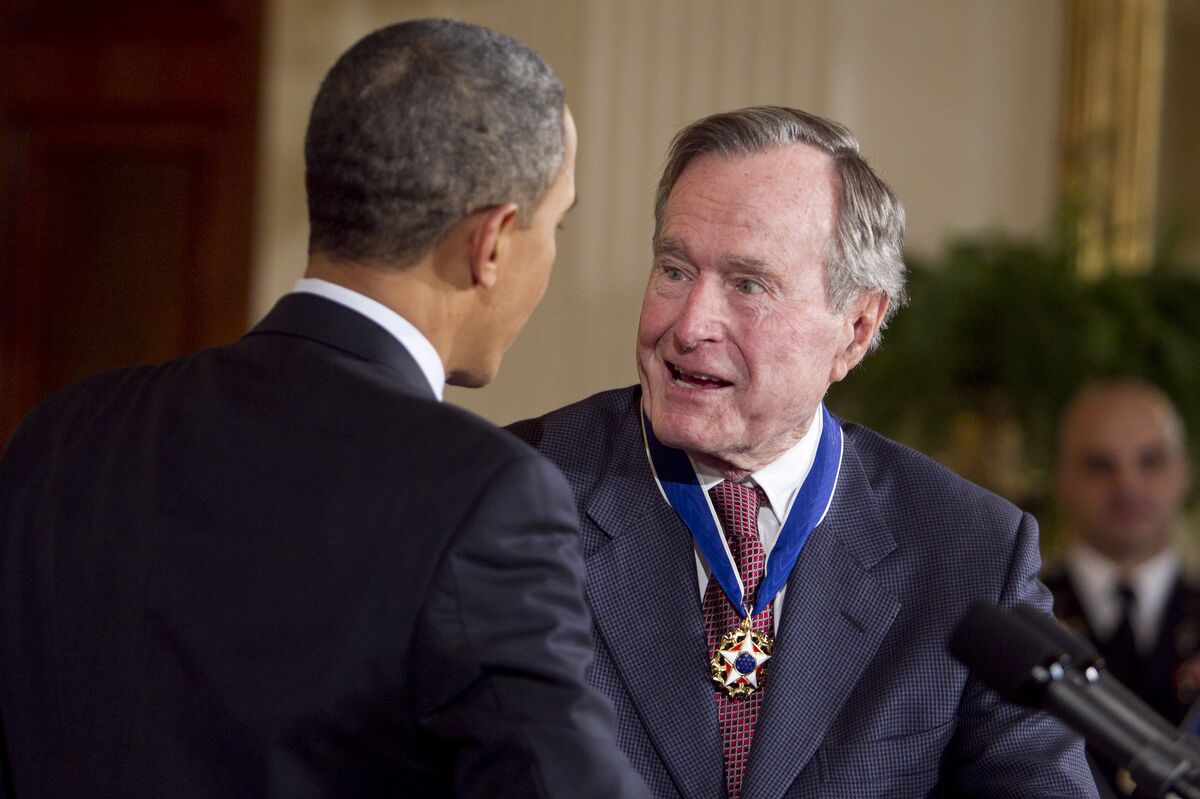 Former U.S. President George H. W. Bush in 2011 is awarded the Presidential Medal of Freedom by President Barack Obama at the White House.
Photographer: Andrew Harrer/Bloomberg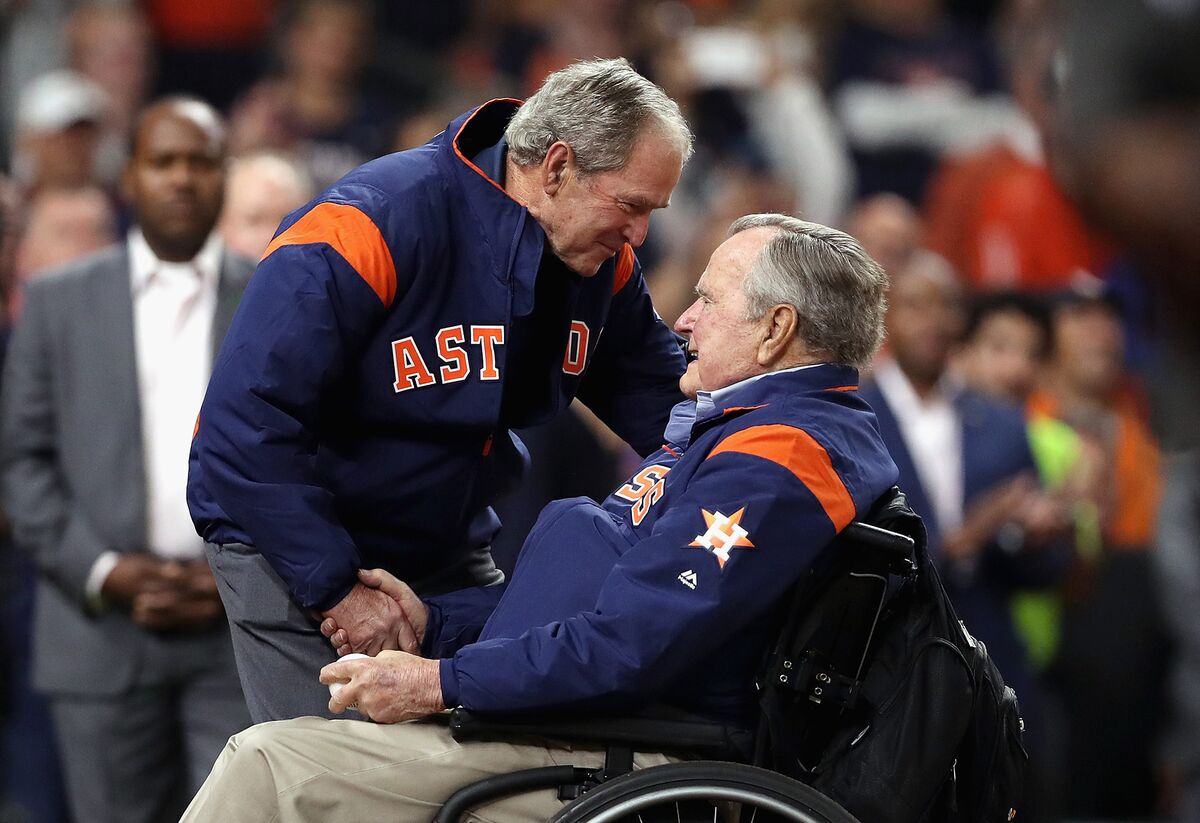 Former United States Presidents George H.W. Bush and George W. Bush prepare to throw out the ceremonial first pitch before in game five of the 2017 World Series at Minute Maid Park on October 29, 2017 in Houston, Texas.
Photographer: Christian Petersen/Getty Images
Presidential candidate George H. W. Bush poses during a 1980 Los Angeles, California, photo portrait session. Bush would later become Vice President under Ronald Reagan later that year.
Photographer: George Rose/Hulton Archive via Getty Images